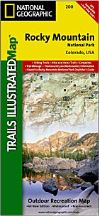 Welcome to RockyMountainHikingTrails.com
RockyMountainHikingTrails.com

is the most comprehensive site on the internet for hiking trails in Rocky Mountain National Park. We provide detailed information for more than 80 hiking trails in the Rockies, including trail descriptions, key features, pictures, trail length, difficulty ratings, elevation profiles and trail maps. We also offer maps and books related to hiking, history and travel in the surrounding Rocky Mountain National Park region at our Hiking Gear Store.
To begin your next Rocky Mountain hiking adventure, simply click on one of the trail directories below:





About Rocky Mountain National Park


Encompassing more than 265,000 acres, and with more than sixty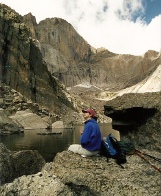 peaks topping out at more than 12,000 feet, Rocky Mountain National Park is home to some of the most spectacular scenery on Earth. With more than 350 miles of trails meandering throughout the park, Rocky Mountain is widely known as a hiker's paradise. To learn more about hiking in the Rockies and what the park has to offer, including information on hiking at altitude, a list of our top 10 hikes in Rocky Mountain National Park, as well as many other hiking and travel related articles, tips and recommendations, please visit our About RMNP page.

If planning an overnight stay, be sure to visit our Accommodations page to find a wide variety of lodging options surrounding the park.
Guide Books and Maps for Rocky Mountain National Park
Rocky Mountain National Park Dayhiker's Guide describes more than thirty of the most popular day hikes in the park. In words and color photographs, author Jerome Malitz emphasizes not only the destination of the hike, but also the remarkable features along the way. All trails are cross-referenced with National Geographic's Trails Illustrated topographic maps.



Rocky Mountain National Park: The Complete Hiking Guide explores all 400 named features in the park, from casual strolls to class 4 climbing. Two-thirds of the book covers off-trail hikes not commonly found in other guidebooks. This in-depth book was written by Lisa Foster, a biological science technician for RMNP, who has more than 7000 hours of backcountry expertise.

Best Easy Day Hikes Rocky Mountain National Park details 36 of the best day hikes that lead to some of the park's most scenic destinations. With hikes varying from half-hour strolls to full-day adventures, this guidebook is geared towards everyone, including experienced hikers and families with children.
To see all of our books and maps related to hiking, history and travel in Rocky Mountain National Park, and the surrounding region, please visit our book store.